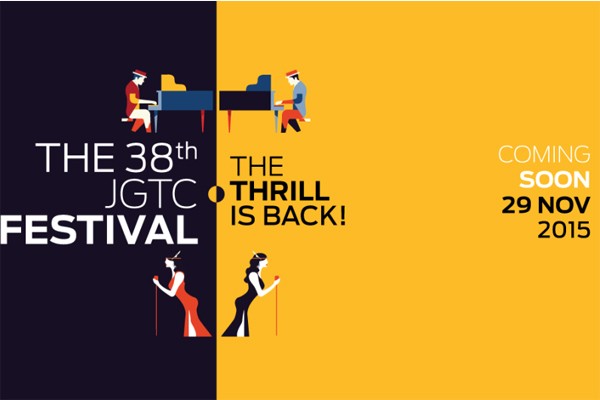 Jakarta (ANTARA News) – Jazz Goes to Campus UI yang tahun ini memasuki pelaksanaan ke-38 akan diadakan pada 29 November 2015 di Kampus FEB UI.
Siaran pers penyelenggara menyebutkan tema yang diangkat pada tahun ini adalah "The Thrill is Back",  untuk menciptakan emotional experience kepada seluruh stake holder.
Rangkaian JGTC antara lain Opening & Press Conference pada tanggal 30 Oktober 2015 di Institut Francais de Indonesia.
Panelis dari JGTC Opening and Press Conference merupakan pihak yang pernah terlibat di dunia musik jazz Indonesia, yaitu Angga "Maliq and The D'Essentials", Gerald Situmorang, dan Dewa Budjana. Solace juga memberikan performance sebagai pengisi acara di JGTC Opening and Press Conference.
Pada 1 November 2015, bertempat di The Resonanz Music Studio and Entertainment, Kebayoran Baru diadakan JGTC Clinic yang diperuntukkan bagi peserta JGTC Competition.
JGTC Clinic akan diberikan oleh Achmad Ananda, Gilang Ramadhan, Sri Hanuraga, dan Kevin Yosua.
Peserta JGTC Competition akan diseleksi oleh para juri yang terdiri dari Riza Arshad, Gilang Ramadhan, dan Robert Mulia Raharja. J
GTC Competition terdiri dari dua babak, yaitu Qualification Round yang diadakan pada tanggal 7 November 2015 dan Final Round yang diadakan pada tanggal 21 November 2015 di Lippo Mall Kemang Village, Jakarta.
Kegiatan lainnya dalam rangkaian JCTC adalah JGTC Roadshow yang tahun ini diadakan di Kota Solo, tepatnya di Universitas Sebelas Maret (UNS) pada tanggal 13 November 2015.
JGTC Roadshow akan dimeriahkan oleh Sri Hanuraga Trio yang akan tampil sebagai pengisi acara.
Jazz Goes to Campus juga menyalurkan JGTC Scholarship untuk mahasiswa FEB UI.
Penggalangan Dana untuk beasiswa ini dilakukan dengan mengadakan JGTC Gathering & Charity Night yang merupakan malam apresiasi untuk para donatur dan panitia JGTC terdahulu.
JGTC Gathering & Charity Night dilaksanakan pada tanggal 14 November 2015 di Grand Mahakam Lounge, Hotel Borobudur dimeriahkan dengan penampilan khusus dari Solace.
Puncak dari seluruh rangkaian acaraThe 38th Jazz Goes to Campus adalah JGTC Festival. JGTC Festival memiliki 4 buah stage.
Tahun ini musisi asal Australia dan Prancis, yaitu Lenka dan Eric Legnini Trio.
Akan diadakan pula JGTC Museum yang akan menceritakan tentang perjalanan musik jazz dan sejarah Jazz Goes To Campus, JGTC Choice Awards yang akan kembali memberikan penghargaan dan apresiasi yang setinggi-tingginya bagi para insan Jazz yang terpilih ke dalam beberapa kategori, dan berbagai jenis stand bazaar di venue JGTC Festival.
International Artists JCTC Festival 2015 adalah Lenka (Australia), Eric Legnini Trio (France) sedangkan national artists meliputi Maliq&D'Essentials, Raisa, IndraLesmana ft. Eva Celia, Dewa Budjana, Krakatau Reunion, Isyana Sarasvati, Baim dan Gugun Blues Shelter, Danilla, Sri Hanuraga Trio, Gerald Situmorang Trio, Art of Tree, Sentimental Moods